The White Plate Flat Trackers Association
From the book " Life's Bits & Pieces" written by J.C. (Pappy) Hoel
Part IV The White Plate Flat Trackers Assoc. ---- By Al Burke
The White Plate Flat Trackers Association is an organization dedicated to the preservation of the names and history of the professional expert motorcycle flat track motorcycle race drivers. It grew out of one of those very rare times when two old dirt track racers sit down and have a bull session and do a little "bench racing." Realizing this happens so seldom, I thought I had better record it. It all started on a warm August evening at the short track at Sturgis,South Dakota when Pappy and I were watching practice back in 1979. During the conversation I mentioned that it would sure be fun to see some of the old gang that I raced with over the years here at Sturgis and elsewhere around the country. Pappy asked me how we would go about putting a reunion together and we began to throw out ideas on how to get started.
Well, the more we talked the more excited we got with the idea, and Pappy suggested we send out invitations for the 1980 rally to see how many we could get to come. As the evening wore on we kept thinking of more things to do until we had so many ideas that we decided to sleep on it. As many of you know, Pappy's legs are not what they used to be and he gets around with a cane, so while he sat in his truck to watch some of the races I walked through the stands asking old experts I knew what they thought of the plan, and all were very enthused. The next morning I left my motel to head up town and much to my surprise here comes Pappy walking down the driveway to meet me without a cane, walking like a kid and lit up like anew saloon-- and that's bright!! He says "I've been thinking all night about this idea and if we can get enough support we can build a monument and a hall of fame, and we were off and running.
I have known Pappy since 1949 when I received the award from him as the youngest rider attending the rally on his own bike. I was fifteen and rode a ridged frame girder for 21 C.I. Velocette out there myself from the Minneapolis area by myself to see Sturgis as I had heard so much about it around the motorcycle shop I grew up at, and he was as spry with this new idea as he was back then. We had to set rules as to who could join how to join and we wrote a few quick rules and the rest was done with letters between Pappy and me. I had raced at Sturgis for thirteen years, starting as a novice through a national expert, so Pappy and I had become good friends even though I rode a Harley, but for those of you not familiar with how a racer gets from a novice to a white plate, let me fill you in. Some things have changed today with the sportsman and amateur racing, but basically it's the same.
The latest rules set by the AMA for all riders wishing to ride professional events (which are the only events which pay prize money) require a physical examination each year of racing and as of now must pay a fee of $85 for their professional license. You start in the AMA professional racing as a novice and issued a white plate with red numbers. Today you ride a smaller motor, but when I started in 1952 we rode the same size. Points are given for winning 1st, 2nd or 3rd in the main event and if you earn 40 points in one year you could be advanced to Junior class and issued a yellow plate with black numerals. These plates are the same as when I raced. Again in the span of one racing season, you won 80 points or approximate of the same, have a minim of 2 years of racing and a safety record, and at the opinion of the AMA you could become an Expert and issued white plates with black numerals. Now you are with the big boys, and the first year, except on rare occasions, you still have a letter behind your number from the area where you live. Once you get National number. This is a number that is awarded to you if you placed 1st, 2nd or 3rd in some national events. The top 99 experts are designated by the AMA and when issued a White Plate with black numeral and no letter following, you know you are among the top best in the United States.
When the letter comes from the completion committee telling you that you have won a national number, that's a great day in your racing career. I will never forget when I got the letter telling me I was national #91. I ran out to get those number plates painted so fast you would have thought my house was on fire. All the experts are very proud of that number, and as I do yet, I sign my name with the old number when it has to do with racing and either put "old" or retired. The next goal is the big ace, the number 1 plate -- very few riders get that honor, but it was always an honor to be on the starting line with that number next to you. This is a short resume.
We decided that to begin with, we would limit our membership to those riders who retired prior to 1970, and held an expert license, white plate. We have since changed our rules to take in experts from a couple of years back to try to get members and to help locate other older riders who raced years ago. We are still in the growing stages and do have some growing pains. We have done something that no one else has ever done, and that's to build a monument to the dirt track motorcycle racers of this country. The monument was Pappy's vision and with his leadership and devotion to the sport he loved so much it was built. The day after this idea came into being Pappy was talking about a monument. I thought it was a little premature, but Pappy. He said, "Let's do it," and the results sit on a plot of ground on the south end of Sturgis. A monument to motorcycle racing and a monument to a man's dedication and love his sport. --Al Burke-old #91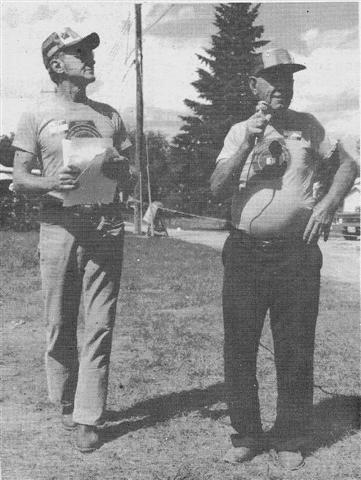 Return back to previous page by clicking here.